Feminist commentator Lauren Duca will be teaching a course at New York University this summer that's literally called "The Feminist Journalist," reported The College Fix. Alright, kids, let me teach you how to inject political bias into an institution that's already destroyed by political bias. Yay. Seriously, get a load of this syllabus.
Lauren says "Media coverage of our current political climate has been plagued by the mental Napalm that I call 'both sides-ism.' This is a kind of classic 'he said, she said' form of journalism where the reporter tries to give both sides of an issue, even if one side is completely bogus."
Yeah but it's completely bogus according to you, Lauren Duca, the chick who tried to sell Marxist propaganda to children interested in celebrities the same way parents sometimes slip vitamin pills into dino chicken nuggets. The point is: there's journalism. And then there's activism. I'm not saying one is better than the other, but why are you trying to dilute the objective one?
Anyways, Lauren's syllabus says "The truth is not a math equation. In the midst of the ongoing American dumpster fire, there is, I believe, only one side to journalism, and it is motivated by building a truer, more equitable democracy" and then she calls feminist journalism "a moral necessity."
Ahhh There's the condescension; I was wondering when we'd get there. As for the truth not being a math equation, she's right: the truth isn't always black and white, which is why it's all the more important that you tell all sides of a story. As for the equitable democracy, don't let that wash over you as some meaningless platitude. Make no mistake: when Lauren says "equity," she means equality of outcome, not opportunity.
So yeah, feel free to take this NYU class if you want to learn how to be a feminist propag — I mean, feminist journalist. But whatever you do, don't bring up Martin Shkreli.
LOL: 'Reporting On The Far Right' Course CANCELED
Remember Talia Lavin? You know, the former New Yorker fact-checker who falsely reported that an ICE agent had a Nazi tattoo? I reported a couple months ago that New York University had, ironically enough, commissioned Talia to teach a course entitled "Reporting on the Far-Right" — you know, because clown world. Well, after only two studentssigned up, that course has been canceled, according to Campus Reform.

Peter Wood, president of the National Association of Scholars, had some pretty…poignant things to tell me about NYU and Miss Lavin.

Peter said "the eagerness of progressive journalists to smear conservatives leads more than a few of those journalists to license their imaginations to make up outrageous tales. NYU escaped some of its ignominy when only two students signed up for Lavin's course, giving the school a reason to cancel it. The students plainly have more sense than the administrators."

But Talia Lavin wasn't the only left-wing journalist commissioned by NYU. Remember Lauren Duca?

Lauren used to write for Teen Vogue, which seems to provide teens with a healthy mix of celebrity news and left-wing indoctrination. NYU is having Lauren teach a course called "The Feminist Journalist" which makes no attempt to appear objective.

Her course description says that "truth is not a math equation" and that "media coverage of our current political climate has been plagued by the mental Napalm that I call "both sides-ism." This is a kind of classic "he said, she said" form of journalism where the reporter tries to give both sides of an issue, even if one side is completely bogus."

I mean, credit where credit's due — but if you're going to be a progressive hack, I don't know about you, but I prefer my wolves out of sheep's clothing.

NYU Department BANS Studying At Tel Aviv Uni
The Department of Social and Cultural Analysis at NYU put out a statement in early May saying students from the department would not be studying abroad at Tel Aviv University, according to The Algemeiner.
"Access to the program is clearly being obstructed by Israel's long-standing discriminatory policies (as acknowledged by the State Department) of barring entry to Palestinians or persons of Arab descent and Muslim heritage, and by the recent amendments to its Law of Entry, which advocate for the exclusion of persons on account of their political speech."

But another article on the Algemeiner points out that the State Department page linked by this NYU department doesn't state that Israel BARS these groups, but rather that these groups have experienced more scrutiny upon entry. And that would make sense because certain groups do have different proclivities for committing terror attacks. These equality advocates gotta realize that nothing in nature is symmetrical.

As for discriminating based on political speech, that's not exactly something that's unique to Israel. The UK has blocked entry to left-wingers like Louis Farrakhan, as well as conservatives like Pamela Geller.

'Reporting On The Far Right' Prof Mistakenly ID'ed Nazi Tattoo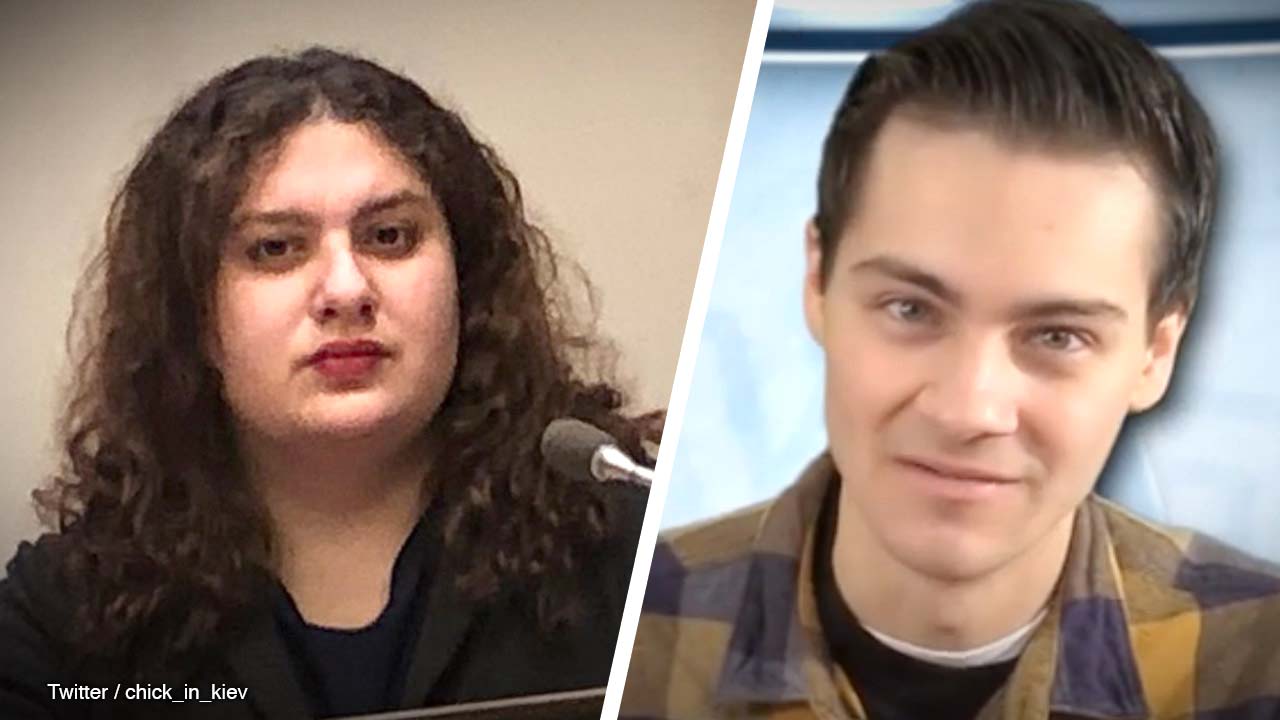 If you're heading off to New York University this fall, you'll be able to take a course called "Reporting on the Far Right" taught by Talia Lavin who, less than a year ago, resigned from the New Yorker after saying this ICE agent, who'd previously lost both legs on a combat mission, had a Nazi tattoo, reported Campus Reform.
You just can't make this stuff up, folks. This is like Eric Clanton, who was apparently running around Berkeley bashing Trump supporters with a bike lock, turning out to have been a professor of — wait for it — ethics. So let's take a look at Talia's course.
"The course will teach students how to track far-right harassment campaigns to their sources and uncover the identities of white supremacist propagandists on the web."
White supremacist propagandists as decided by Talia, of course. But cool, you know, looking around at all of the microaggression seminars, affirmative action, right-wing speeches getting shut down, I've always thought "hey, what's the one thing that could really seal the deal for colleges to become complete cancer?" That's right: How to Doxx Your Political Opponents 101.
Anyway, Talia's course also deals with the "psychological impact" of covering hate and will "confront the ethical dilemmas incumbent in such coverage, exploring the question of when exposing hate crosses the line into amplifying it uncritically."
Right because the real ethical dilemma of publishing personal info about people you don't like isn't exposing them to violence or anything, no, no, the real ethical dilemma is whether your report will create copycat purveyors of "hate." You know, because people who read Media Matters and HuffPo are really likely to become right-wing activists.
Hiring Talia isn't just a one-off for NYU, either. Last month on Campus Unmasked, we reported how the school hired former Teen Vogue columnist Lauren Duca of getting thrashed by Tucker fame to teach a course called "The Feminist Journalist."
To go three for three, maybe they can get New York Times writer Sarah Jeong to teach a course on how to really slam white people on Twitter.